Kriya Yoga Byron Bay Events
Please contact simon@kriyayogaaustralia.com for more information about other events in Byron Bay.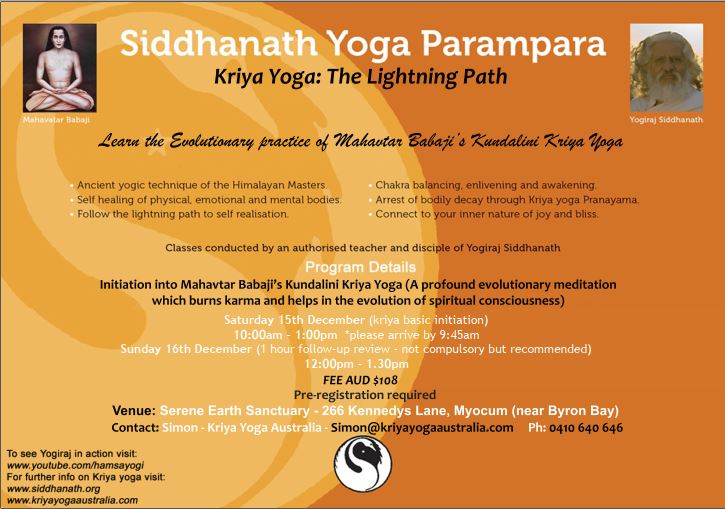 Mahavatar Babaji's Kundalini Kriya Yoga
Be initiated into the evolutionary Kundalini Kriya Yoga, the fast track path that takes you to the higher limbs of yog sadhana, pratyahar, dharana, dhyan and samadhi. Take the step towards self-realisation and delve into the inner wellspring of love and joy.
Kriya Yoga continues in the yogic tradition of non-doing doing, the effortless effort takes you to the divinity within.
Pre-registration required to book your spot.
For any further inquiries please contact:
Simon: 0410 640 646 / simon@kriyayogaaustralia.com
Kriya Yoga  initiation:
When: Saturday 15th December 2018 10am to 1pm. Please arrive by 9:45
Where: Serene Earth Sanctuary, 266 Kennedys Lane, Myocum (Near Byron Bay)
Fee: $108
Kriya Yoga Review:
When: Sunday 16th December 2018 12:00pm to 1:30pm
Where:  Serene Earth Sanctuary, 266 Kennedys Lane, Myocum (Near Byron Bay)